LovSil® splice offers solution against water ingress
Every power utility is familiar with the importance of watertight cable accessories. Water ingress leads to outages and in many occasions customers demand compensation.  Lovink developed a cable splice based on fluid silicone insulation: a reliable, solid splice with an extremely low outage rate.
LoviSil® technology has been developed in the Netherlands, where utilities deal with a high water table.  Fluid silicone insulation appeared to be the best solution. In contact with moisture a soft, water resistant and perfectly insulating rubber is formed. This cured LoviSil® provides an additional layer of protection. Compared to shrink technologies LoviSil® splices are tested under a 29 psi pressure (65 feet depth in water)!
Triple barrier
In fact LoviSil® cable splices offers a triple barrier that prevents the ingress of moisture in the electric field. The mechanical insulation is provided by the ABS outer splice, the sealing wrapping tape and Protolin®, a 2-component polyurethane resin. This ensures long-term moisture barrier. The silicone seal between outer and inner joint provides the following protection against moisture. Finally, the liquid silicone, LoviSil®, also provides the seal to the electric field.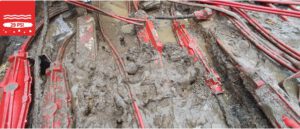 Do you want to control your outage rates and long term serve your stakeholders? Contact us today and we will contact you to settle a meeting!