LoviSil® 20 kV cable spliceswere recently applied for the connection of wind turbines on one of the largest wind farms in Northern Germany. They were looking for a strong straight through splicethat is suitable for sustainable energy and that scores very well on water resistance.
The contracting company that was responsible for the connection of the 'Elbdeich' wind farm already had experience with LoviSil® splices in sustainable energy parks. The choice for Lovink's liquid silicone technology was therefore quickly made.
High water level at high tide
The project consisted of the connection of 20 wind turbines located on the lake side of a large dam. As a result, the cable splices can become submerged at high tide. The LoviSil® cable splices score particularly well for water resistance. The triple barrier prevents the ingress of moisture in the electric field.
The insulation is provided by the ABS outer splice, the sealing wrapping tape and Protolin®, a 2-component polyurethane resin. This ensures long-term moisture barrier. A silicone seal between outer and inner joint provides the following protection against moisture. Finally, the liquid silicone, LoviSil®, also provides the seal to the electric field. As a result, the LoviSil® cable splices can withstand a 2 bar test pressure. In short, the cable joints are extremely suitable for use in all ground conditions.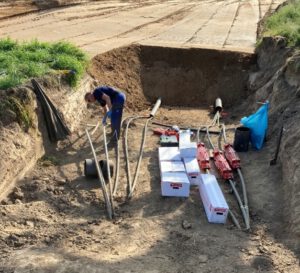 Suitable future grids
As a 'liquid technology', the Lovisil® technology has even more advantages when it comes to future grids with sustainable energy input. The patented LoviSil® liquid insulation with minimal dielectric strength (E = 21kV/mm) guarantees perfect and long-lasting insulation of the cable connection, especially in modern distribution networks where multiple stress factors are present. In addition, LoviSil® is resistant to high temperatures and has the inherent ability to suppress partial discharges (e.g. corona).
Successful installation
The LoviSil® cable splices were used for the connection of 300mm² to 500mm² XLPE cable. The training was provided by our German Partner ICP. The end customer was very pleased with the technology as well as the guidance provided by Lovink and ICP.
Interesting facts
The triple barrier of LoviSil®prevents the ingress of moisture in the electric field.
LoviSil® technology scores very well in future grids.