We see them more and more, the large wind farms and solar parks in the US landscape. This makes a major contribution to the energy transition from fossil fuels to a sustainable energy supply. Just like in existing networks, cable splices are used to distribute the generated power through the cables, and here the cable network is only as strong as its weakest link.
For many investments, functional properties are weighed up in combination with the purchase price. Cable splices often involve a long-term investment and an important asset: electricity! Then it is important to look much further than just the product and the price. To what extent is the product resistant to technical challenges, which aspects are involved in the assembly, what is the availability of materials, etc.
Sustainable challenges
A cable network for a wind farm or solar park has many similarities with a regular network, but also a number of important differences. For example, sustainable generation often involves bi-directional heavier loads and high-frequency harmonics in the grid. Harmonics are an integer or multiples of the fundamental frequency (50 Hz). Harmonics can lead to a variety of side effects such as thermal, mechanical, chemical and electrical, all of which are interrelated. More information on the impact of harmonics can be read in our technical paper "The future challenges for cable accessories in medium voltage networks".
Quality is a No. 1 priority
The construction of a sustainable energy park is a huge project with many collaborating parties. The selection criteria of components are aimed at a long service life and failure-free operation. The quality of the connection of a solar panel or wind turbine should never be questioned. Only then the objectives of the investors can be achieved.
Cable splices with a robust housing and liquid electrical insulation are ideally suited for applications in sustainable networks. Liquid insulation offers the best protection in networks with strongly varying loads and harmonics, in which the thermal load in particular plays a major role.
Benefits of liquid insulation
An insulation based on liquid silicone can withstand changing loads and high temperatures of the cables. Liquid silicone has the inherent ability to suppress partial discharges such as corona. This makes liquid silicone a perfect insulator for networks that are heavily polluted with harmonics. Cable splices based on shrink technology will age faster due to high temperatures and will lead to breakdown more quickly due to the partial discharges.
Installation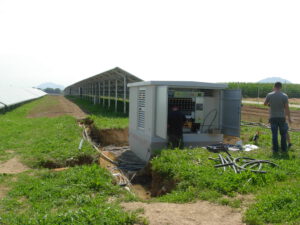 Connecting underground cables requires craftmanship. No matter how cleverly designed a cable splice is, the quality is largely determined by the skills of the installer. The scarcity on the labor market and declining craftsmanship lead to extra pressure on the contractors who are deployed for these projects.
Cable splices that distinguish themselves in terms of ease of installation often win out over labour-intensive and installer-dependent splicing technologies. Installations with critical tools such as the use of a gas burner are becoming less and less popular and are no longer allowed everywhere.
LoviSil® technology offers reliable solutions
Lovink Enertech cable splices have been used in the underground cable network for more than 100 years. In sectors where the highest quality is chosen, such as the Dutch electricity grid or the (petro) chemical industry, the liquid silicone technology has built up a good reputation and many positive references.
With the increased construction of sustainable parks, more and more project developers and contractors are opting for the reliable LoviSil® technology. Choosing the wrong cable splice can lead to accelerated failure and major financial damage.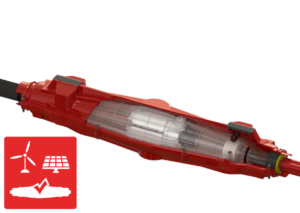 Would you like to know more about this technology or learn from the experiences that customers regularly share with us? Invite one of our specialists, we are happy to meet you for an introduction!