The Portuguese island of Madeira has a high water level and some areas regularly flood in the winter. Portuguese cable supplier Solidal wanted a solution for a 33 kV installation around a tunnel that often floods during the winter months. LoviSil® straight through splices met all requirements.
Madeira is a popular island destination for travellers, so the government wants to offer good infrastructure to local residents as well as the tourism industry. Solidal decided to use LoviSil® 33 kV straight through splices for this installation, which had to be supplied as a turnkey solution.
LoviSil® cable splices were selected thanks to their proven fluid silicone technology, their robust insulation with polyurethane resin and their standard 2 bar water resistance (proven during type testing).
Simple installation
Five splicers from Solidal were trained on-site before activities started. These splicers quickly mastered the installation process and greatly appreciated the simple and effective installation process. Export manager John Lerant explains: "High voltage connections are characterised by an almost 'clinical' installation process. They were very impressed by the step-by-step installation and the logical structure, of the LoviSil® splice."
The manager responsible for the whole project also attended the training. During the comprehensive product presentation, it became apparent that the splices could also be used for other challenges that Portugal will face in the coming years. Thus plenty of opportunities for further exploration.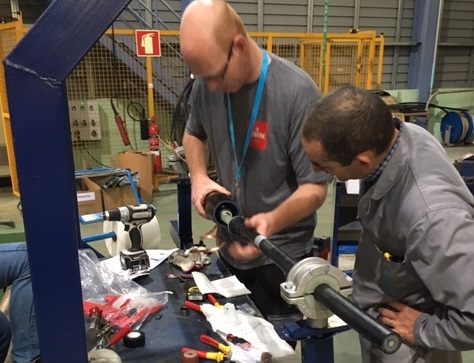 Interesting facts
LoviSil® perfect solution for cables around tunnels