Energy distribution at large industrial parks often requires challenging solutions. A large Belgian chemicals group was experiencing issues with its cable bridges, due to weather conditions like rainfall and intensive sunshine.  The LoviSil® splice proved to be an ideal solution for the contractor, responsible for the medium voltage infrastructure at the plant.
When looking for a suitable solution, they consulted their Dutch colleagues and were advised to implement LoviSil® splices. These trifurcate splices can be universally deployed and their fluid silicone technology makes them ideal for humid environments. That is how LoviSil® splices were able to successfully resist water pressure of 2 bar. In addition, the plastic outer shell is mechanically indestructible and UV resistant.
During our first presentation, which was attended by project engineers, work planners and several splicers, the proposed configuration involved a trifurcate from 3-phase PILC cable to 1-phase XLPE cable. At the end, everyone was very enthusiastic about LovSil® technology. "The people were enthusiastic about the technology; its robustness as well as its structure and installation", says Export Manager John Lerant.
Fewer tools
10 splicers were recently trained and certified by Lovink Enertech. They were very positive about the steps in the installation process, which were easy to following in the user manual. They now need less time and fewer tools than when it installed its previous splices.
In the meantime, the contractor has several types of cable splices in stock. Due to the modular system, only a few base modules and resin modules are needed. With various cable modules all cable combinations can be connected. As a result, they can always respond to failures effectively.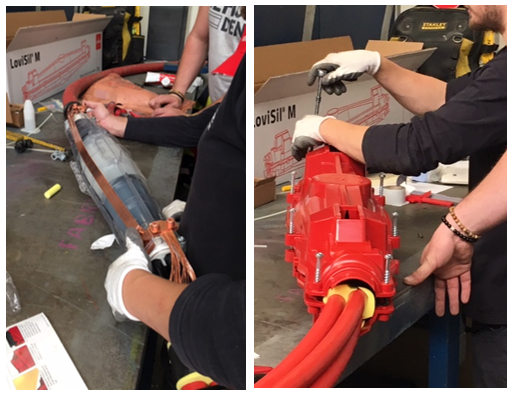 Interesting facts
Installation LoviSil needs less time and fewer tools