Stadtwerke Dettelbach (D) implemented the LoviSil® oil refill splice in its electricity network. When renewing switchgear, this required connection to the existing 25 kV paper-insulated network. Thanks to the Lovink Enertech website, Stadtwerke Dettelbach came up with the idea of introducing our oil refill splice.
In traditional trifurcate splices, paper-insulated cables are at risk of drying out. This is because there is no means for replenishing the oil. The LoviSil® oil refill splice is able to do this using a special manifold connecting the lead sheath to an oil reservoir. To ensure suitability of this solution, a number of extra tests were carried out specific to the project at Lovink's testing facilities.
As the location is close to a river, Stadtwerke Dettelbach opted to enclose the reservoir above ground in a cabinet, as can be seen in the accompanying photograph. The oil refill splice can be seen in the adjacent splicing pit. Although the location of this trifurcate splice is subject to flooding, it will provide many years service prolonging the life of the paper cable. This also highlights another principle characteristic of LoviSil® solutions, namely their excellent resistance to water ingress.
The project-based approach adopted by Lovink Enertech helped to achieve an effective installation in the field. The splicers at Stadtwerke Dettelbach and Troll Elektrotechnik were able to install the splice with no problems whatsoever.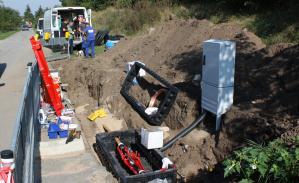 Interesting facts
Oil refill splices keep the oil supply in the PILC cable up the mark
Water ingress is prevented because of the electrical insulation with LoviSil®