Once again Lovink has improved the LoviSil® cable joints, this time in terms of robustness and ease of installation. To achieve an even better seal, our engineering department has developed new cable seals for the inner joint.
In 2016, we successfully introduced the LoviSil® M Series with many improvements leading to easier assembly and fewer parts. After that we did not sit still. We strive for continuous improvement of our products and we are always open to suggestions from customers.
Reliable sealing
Replacing the foam rings with new cable seals was not an easy job given the variety of different cable types used by our customers. With a dedicated project team with a lot of knowledge and experience, we have succeeded in developing a complete range of silicone cable seals.
Silicone cable seals provide a perfect seal of the inner joint and cables. "The cylinders are connected by a flexible membrane. This allows each cylinder to move freely and does not affect the sealing of other cables or housing," explains Frank van Lent Product Development Engineer at Lovink.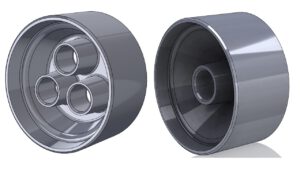 Material properties
The cable seals are made of silicone rubber, a pure  material; silicone rubber does not contain any hydrocarbon compounds or impurities. Besides silicones have a large stretch which allows a range of cable sizes to fit in one cable seal. Last but not least is the diëlectric equivalent to LoviSil®
liquid insulation
Ease of Installation
During the development process, we consulted with our customers' jointers. In the first phase, we collected as much input as possible for the requirements and wishes. Jointers indicated that mounting the foam ring was sometimes prone to errors and that closing the larger inner joints was not always easy. This information was very valuable and led to the solution of the silicone cable seals.
After the first demonstrations, we got a lot of positive feedback. The cable seals are easy to install using the supplied silicone paste. In addition, positioning and closing the inner joint is quick and easy. Finally, movement of the joint is possible during assembly, even bending XLPE cables.
"Most robust connection ever"
With this development, Lovink underlines its image as a supplier of cable joints that are distinguished by reliability, robustness and ease of installation.