Sydney based Endeavour Energy (formerly Integral Energy) has experienced one of the benefits of LoviSil® during a job in a reduced pit area in the South West of Sydney.
The Hoxton Park Team was required to make two transition joints and replace the switch gear at the Pad Mount Substation as part of a reconfiguration of the local network. Upon closer investigation the team was challenged by the maximum allowable size of the pit area due to nearby underground gas mains, water and telecommunication cables.
Richard Jeremiejczk the leading hand cable jointer consulted KD Fisher, the Lovink Enertech distributor and decided that the LoviSil® transition joint would be the most suitable option. The team had no problems constructing the joints in a pit area somewhat smaller than what they would usually work in.
Water ingress protection
Upon arrival to site, the team found that the excavated pit was full of water which had to be pumped out prior to starting. It looks like the water ingress protection may also be another benefit experienced in the long term with the use of the LoviSil® cable joints.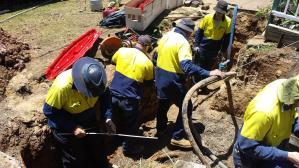 Interesting facts
LoviSil® transition joints require a smaller excavation pit because advanced parking of parts is not necessary