Lovink Enertech supplied LoviSil® feed-in branch joints to Joulz GreenTec for the Rembrandt Wind Farm in Coevorden, the Netherlands. This special feed-in joint is used to feed the electricity obtained from wind turbines into the existing grid without having to build an additional sub-station.
Special feed-in branch joint
The joint is fitted with a specially developed connector. In fact, the cables from wind turbines are usually single conductor cables with relatively small dimensions which must be connected to cables on the existing grid which are usually of a greater diameter. The technique used in Coevorden was a connector with two 3×1 conductors 70 mm2 on a 3-conductor 150 mm2 polymeric cable 10 kV.
Installation supervision
The jointers from Joulz have many years of experience with LoviSil® cable joints. However, they had not previously installed any feed-in branch joints before. Lovink Enertech supervised the jointing and the jointers can now look back to a successful installation: "The jointers were experienced with LoviSil® and they learned the branching technique quickly and expertly. The installation was executed without any problems", says Frans Hartwig, Senior Account Manager and technical specialist at Lovink Enertech.
Cost savings
The project developer of the windfarm Yard Energy  made an economical choice by using this feed-in branch joint solution. Not only was the cost of an additional sub-station saved but also the necessary cable lengths were considerably less due to the use of a feed-in branch joint.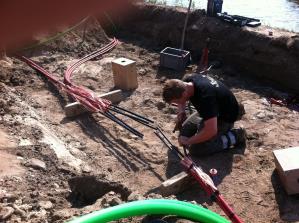 Interesting facts
Feed-in joint requires no extra sub-station
Suitable for large and small cross sections
Saving cable length