The oil refill joint by Lovink Enertech offers a perfect and economical solution for dry paper-insulated cables. Various industrial applications have been realised since it was introduced in 2010. The joint was recently used for a PILC net at a German chemicals group, where the oil supply system was realised using copper pipes. The company was quick to see the advantages of the LoviSil® oil refill system.
Sophisticated solution helps to save time
In the past, the PILC cable was maintained by soldering copper pipes around each conductor. For a triple conductor connection, this meant 3 joints. And this sometimes took several days to realise.  The alternative was to replace the whole cable. The technology used by Lovink is a lot simpler and can also be realised a lot faster. The triple conductor construction is realised in a single LoviSil® joint.
Simplicity and convenience

A special but simple technique has been used to remove a piece of the lead sheath without damaging the sheath itself. A synthetic oil clip with valve has then been placed on top of it.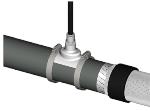 A PUR hose and a supply coupling have then been used to supply oil to the joint's outer shell. From this point, an oil reservoir can be connected in various ways.
Also suitable for transition connections
The second advantage of the LoviSil® oil refill joint is that it can be used in transition connections. The transition from PILC to XLPE cable, as well as the oil supply, can be realised in a single construction. Two in one: liquid silicone offers the ideal electrical insulation and the smart oil supply extends the life span of PILC cables.
Additional type test
The application was subjected to various tests during the development and finalisation of the construction. Functional tests on components like the PUR hose flowed smoothly, as did bonding tests using Protolin® resin. Finally, a type test was carried out in accordance with CENELEC 629.2, and the LoviSil® oil refill joint emerged with flying colours.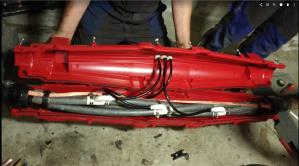 Interesting facts
Alternative solution for oil refill system in copper pipes
A 3-core construction in one LoviSil® joint
Also suitable for transition connections