Since 2006, the Markbygden onshore windmill project has been under construction in the north of Sweden. Lovink recently presented its LoviSil® branch joints as a solution to the problems that arose because of the extremely low temperatures.
The responsible contractor was looking for a robust technique that can withstand the extremely cold ground temperatures. The installation problems that can occur in extreme cold may cause failures when energising the cables.
Liquid silicone technology
The LoviSil® liquid silicone technique has no installation problems under extremely cold conditions. The silicone remains liquid and therefore perfectly insulates all parts in the joint. The chance of partial discharges due to air inclusion is therefore minimal. The electrical and mechanical properties ensure that the LoviSil® joint is a reliable connection under all weather conditions and performs optimally.
With branch joints a polymeric cable can be directly connected to paper or polymeric cables. Besides a specially developed connector enables jointing of small cross section source cables from windmills to large cross section radial or ring cables. This application reduces the need for additional switchgear and sub stations. Together with saving extra cable length and extra excavation work makes the LoviSil® branch joint an economic investment.
On-site training
After extensive theoretical and practical training, six LoviSil® branch joints were installed for the connection of 800 mm2 to 95mm2 polymeric cable. A thick layer of snow and a temperature of -14 ° C made it a challenging assembly: "With the help of heaters, the tent was heated, and the joint pit could be dug. Fortunately, the technicians were very experienced and used to these installation conditions, "said account manager John Lerant.
The installation went without any problems and the cables were successfully energised. Both the contractor and the end customer look back on the training and installation with great satisfaction.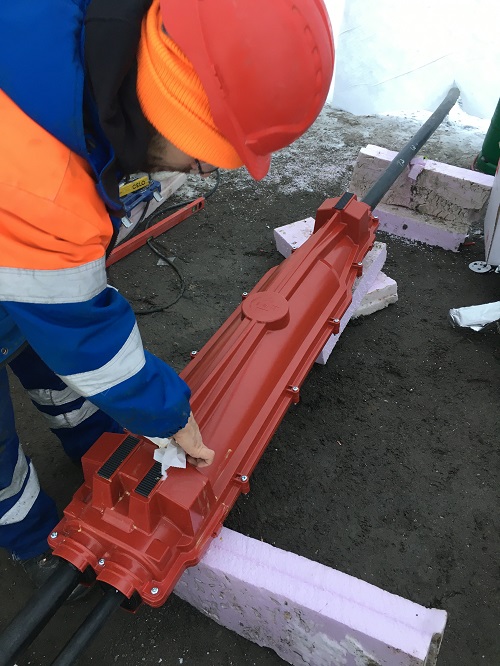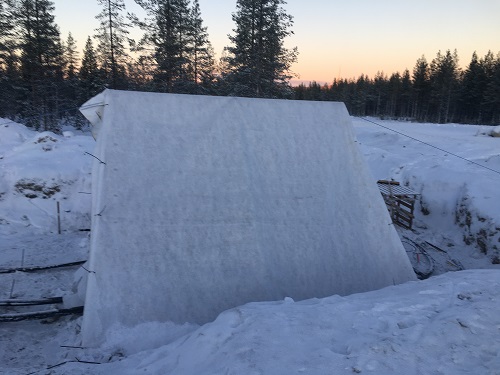 Interesting facts
The LoviSil® liquid silicone technique has no installation problems under extremely cold conditions.
LoviSil® branch joints offers cost saving solution for windparks