EPC contractors have seen the benefits of LoviSil® joints in sustainable applications. Lovink Enertech was approached for a rather unique connection when a wind farm was being realised in Ireland.
It involved a branch joint with a large 1,000 mm2 ingoing cable and 2 outgoing cables of 630 mm2 and 400 mm2, with an operating voltage of 36 kV. Various suppliers were able to realise the connection, but none could do it within a single casing. The LoviSil® branch joint is universal and can be used for a wide range of cables, including extremely large and small cross sections within the same joint.
Training was provided on-site and installation was carried out under supervision from Lovink Enertech. This approach was very effective and project managers as well as jointers were very pleased with the final result. All branch joints have been installed in the meantime and the wind farm, which has a total capacity of 90 MW, is now operational.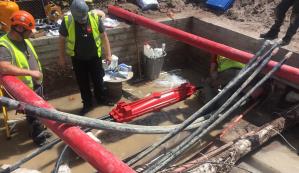 Interesting facts
Main cable 1.000 mm2 and two outbound cables of 630 mm2 and 400 mm2: LoviSil® can do it!