LoviSil® cable joints were recently used for a gravel excavation site in North Rhine-Westphalia (Germany) to supply power to a crawler excavator. An application with many challenges such as water pressure and machine movements. This is no problem for LoviSil® cable joints; these are extremely shock resistant and tested at 2 bar water pressure.
Small Cross section cables
Part of the old cable had to be replaced. It concerned a connection of 10 kV 3 x 35mm² cable to a 3x25mm² crane cable, which operates the excavator. These cables are no problem for the LoviSil® cable joint, the universal system offers a reliable solution for large and small cable sizes.
Robust properties
Of course, a lot of water is involved in gravel and sand extraction and the excavation installations cause a lot of movement on the cable. The cable joint therefore had to meet high electrical and mechanical properties. The LoviSil® technology scored the best for water tightness and strain relief.
Challenging installation
The project was supervised by our German partner ICP. "A gravel hole is not an everyday location for an assembly. The cables are prepared with a special knife, a round file and a small flame for removing the conductive layer, after which the LoviSil® cable joints are mounted without any problems, "says Mr Beckmann from ICP. Two joints have been installed, one on the bridge and one on the excavator. The gravel hole is now fully operational again.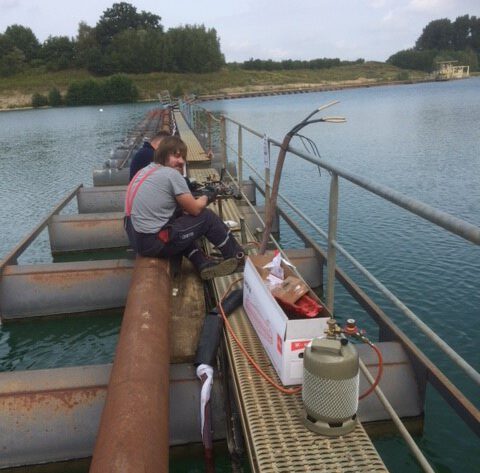 Interesting facts
LoviSil® offers universal solution - also for small cross section cables